Tired of aching feet and blisters from being on your feet all day? Check out this list of the 5 best shoes for retail workers.
As a retail worker, you're likely to spend hours standing on your feet or walking long distances, this is why finding the best shoes for retail workers is so vital.
If you're finding that your feet get sore during your shifts and ache even after you finish work then you're wearing shoes that aren't ideal for retail work.
What do I know about shoes?
I ran a shoe store for five years. I've also worked in dozens of retail stores throughout my career. So it's safe to say that I know a thing or two about choosing the right shoes for retail work.
The search for the best shoes for retail workers can be pretty daunting though, especially if you're unsure where to find the ideal set of durable yet comfortable work shoes.
I'm talking about things like the right arch support, ensuring they are slip-resistant and deciding if you need a rubber sole, etc. It's not always easy to find shoes with the right combination of these necessary factors for retail work.
Rather than just telling you what to buy, I've put together a list of the key features you'll need to look for when shopping around for the perfect shoes. Armed with this knowledge, you'll know exactly what to look for.
So, without further ado, let's take a look at the best shoes for retail workers.
A quick roundup of the shoes covered in this article
So what are the best shoes for retail workers?
I'm glad you asked! Here is my take on the best shoes for retail workers based on the shoes I've personally tried during my time in retail.
Asics is a Japanese sports equipment company. Their name is an acronym for the Latin phrase "Anima sana in corpore sano" which means "Sound mind in a sound body". I love that!
Excellent Cushioning – They may be the most comfortable shoes I've ever worn thank's to the cushioned insole. I really can't fault them for their ability to cushion your feet during extended use. This makes them ideal if you are on your feet a lot.
Perfect Shock Absorption– If you're going to be walking around all day, you're gonna put a strain on your feet. The GEL™ technology cushioning on the insole and heel absorbs all of that impact, for maximum protection of your feet and joints.
Snug Fit – They just fit great, with none of the materials rubbing against my feet. Also, the snug fit makes them extremely slip-resistant, even during extended wear.
Very Durable – Designed with TRUSSTIC technology, which is a thermoplastic synthetic material that can be found under the arch of the shoes. This makes the shoes extremely durable and stable.
The Price – I know they say you get what you pay for, but the Nimbus are expensive shoes for work. It's important to note that this is a running shoe, so they are bound to be more expensive. But when you're a retail worker looking for some comfortable shoes to get you through your shift, the price feels a bit steep.
Ultimately, it depends on whether you are willing to pay for the very best. If you are then you can't go wrong with the Nimbus 23. Though, if you do want a cheaper option, I highly recommend the Asics Cumulus instead.
New Balance is an American sports footwear and apparel company that's been around since 1906.
This shoe is a favorite among serious walkers who are looking for stability and cushioning without sacrificing flexibility.
Comfort – They are very comfortable shoes. If your primary reason for buying new work shoes is comfort then these are ideal. Particularly if you are prone to ankle iration, which is mitigated by the comfort collar.
Rollbar Stability – If you want maximum support and stability when you're on your feet then New Balance delivers it. This makes them especially ideal for retail workers who under or overpronate when they are on the shop floor.
Trufuse Midsole – The combination of two different premium memory foam materials provides all the cushioning you will ever need in a pair of work shoes.
Durability – These are ideal for anyone in an active job. I wore these shoes for over a year in two different retail jobs before I replaced them. Bearing in mind I was working an average of 70 hours per week!
The Price – As with the Asics Gel-Nimbus 23, you're paying for a set of running shoes which are always going to be more expensive than regular walking shoes.
The logic here is that the highly active nature of retail jobs makes a running shoe more practical and comfortable.
How much are they?
Brooks is a popular go-to walking shoe for people who are prone to overpronate (pardon the pun).
These shoes also have a rollbar that guides your motion. Which is a fancy way of saying they will stabilize your arches so your feet dont't roll inward as you walk.
Motion Control Shoe – As I said earlier, if you tend to overpronate or suffer from flat feet, this is an ideal set of work shoes to keep you comfortable while you're on your feet all day.
Excellent Cushioning – These Brooks shoes contain BioMoGo DNA Foam, which is a synthetic material that provides a high degree of cushioning. Ideal if you are going to be wearing them for a long shift.
Slip Resistant: These shoes have a rubber outsole that's been certified for its high degree of slip resistance and excellent traction.
The Look – This may be a personal preference but I'm not a fan of the smarter black look. But I can understand why these shoes would appeal to retail workers who need to wear something a little less sporty.
How much are they?
Skechers are well known for their supportive insoles with memory foam that adapts to your unique foot shape. They are also ultra-lightweight, responsive with a high degree of cushioning.
The Skechers Go Walk 5 shoe is the best seller in the entire company. Which isn't surprising as they are an absolute dream to wear.
Goga Mat Insole – If you're new to Skechers, then you'll love this. You rebounding cushion effect of these insoles makes you feel as if you're bouncing. This makes them extremely practical at shock absorption for retail workers.
Slip-resistant – The rubber sole will prevent you from slipping wherever you walk. This makes them especially ideal if you work outside or walk to and from work.
Breathable – Skechers Go Walk 5 have a mesh fabric that provides excellent air circulation, keeping your feet cool and fresh.
The Price – One of the most refreshing things about Sketchers is that they aren't expensive, despite all the fantastic features on offer.
The Look – Again, this is just a personal preference, but I don't like the shoe style. I prefer something a bit more premium looking.
How much are they?
Clarks have been making shoes since 1825. What makes this brand unique is the comfort and the long-lasting wear, not to mention the classic look. If you are looking for something with the look of dress shoes with the comfort of running shoes then this is the pair of shoes for you.
Professional Look – For some types of retail work, you need to look smart and professional so the more casual shoes on this list may not be appropriate. If that sounds like you then these shoes are ideal.
High-Quality Leather – The full-grain leather uppers are built to last. Especially if you know how to take care of leather shoes.
Ortholite Insole – You shouldn't have to compromise on function and comfort. These shoes will keep you comfortable as well as cool and fresh during those long hours.
Not Very Flexible – Unfortunately, due to the materials used, these types of shoes aren't very flexible. So they aren't ideal if you need to move up and down slopes or stairs.
How much are they?
Common Questions
These are some of the most common questions about the best shoes for retail workers.
Why do you need good shoes for retail work?
You're likely to spend a lot of time either standing around or moving quickly throughout the store. All of this puts pressure and tension on your joints and tendons in your knees, ankles and feet.
If you don't choose the right shoes for retail work, you can experience severe and irreversible foot problems.
What are the best shoes for cashiers?
This all depends on whether you have to stand during your shift or if you get to sit down. If the former, then the best shoes would be the Asics Gel-Nimbus 23 or the New Balance 847 V4.
Are flip flops appropriate for retail workers to wear all day?
I love flip flops if I'm on the beach or walking around the garden, but they are definitely not ideal for retail workers.
For a start, they have zero cushioning, making them quite uncomfortable to wear after a while. And while they may have a rubber sole, the loose fit means that they are far from being slip-resistant.
Conclusion about the best shoes for retail workers
I've sold thousands of shoes during my time in shoe stores. I've also worn plenty of them myself during long hours of inventory and day to day retail work.
So I'm confident that the five pairs of shoes covered in this article are the best shoes for retail workers available.
That said, I do encourage you to shop around using the advice I've provided.
Websites like Amazon have a fantastic range of shoes for retail workers. So I encourage you to visit and take a look.
I hope this article has been useful. Just so you know, I get commissions from Amazon for purchases made through links in this post.
What should you look for in comfortable shoes for retail workers?
There are some key features that you need to take into consideration when choosing the right pair of work shoes.
The importance of arch support
Every pair of feet is unique but foot arches come in three distinct types: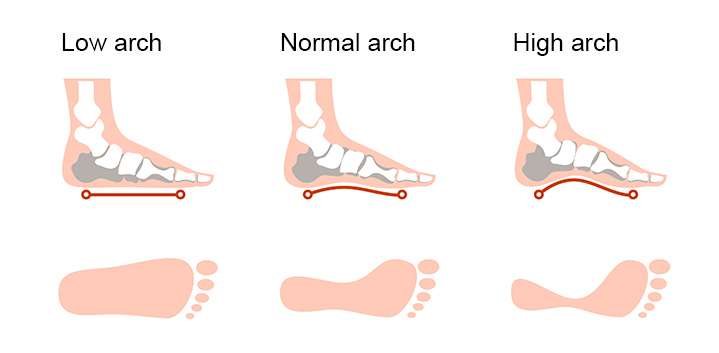 Normal Arches – Ideal for absorbing and distributing the impact from walking or standing for long periods of time. People with normal arches rarely suffer from foot pain.
High Arch – Much harder for your feet to absorb impacts since part of your feet doesn't touch the floor. You will need arch support and extra cushioning such as a memory foam insole.
Flat Arch – The whole surface of your feet touch the floor (great to absorb impact) but is not ideal on your knees and legs. Where possible, you should always avoid wearing the wrong shoes such as flat shoes.
Arch support tip: You can measure your arch type by wetting the bottom of your foot and stepping on cardboard to see the imprint you leave.
Choosing the right materials for your shoes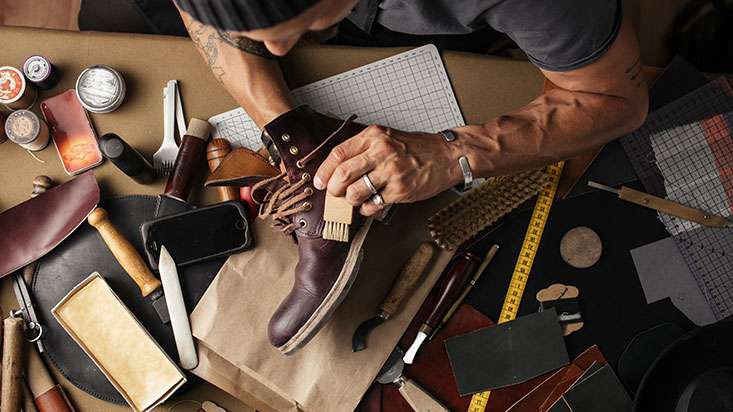 Shoes come in various materials, each with its own benefits and drawbacks. These are some of the most popular types:
High-quality leather shoes – Easily the most popular shoe material for retail workers. The leather is used to create damage resistant shoes that are ideal for retail work. However, leather is also a heavy material versus fabric. So if you're looking for lightweight shoes, you might want to purchase shoes with a different build.
Canvas Shoes – This is a lightweight and soft material. If you've ever worn a good pair of lace-up sneaker-like Converse, then you'll like canvas. That said, it's not the most durable material and can get dirty very quickly.
Rubber Shoes – This is a long-lasting, material, built for durability, especially when it comes to the shoes, rubber outsole that provides a few features that regular shoes do not. For example a high degree of slip resistance with shock absorption.
EVA Walking Shoes – EVA (Ethylene Vinyl Acetate) is a lightweight, synthetic material with a shock-absorbing midsole. When EVA is paired with rubber, you get impressive shock absorption and slip-resistant soles. However, for a retail worker, it's not the most durable material.
The good news is that you can often get a proper balance of these materials to tick all the boxes. For example, grocery store workers would definitely benefit from slip-resistant shoes with a rubber outsole.
Pair that with some synthetic materials such as EVA for shock absorption, along with a breathable fabric upper for that comfortable and modern style.
Sizing and fitting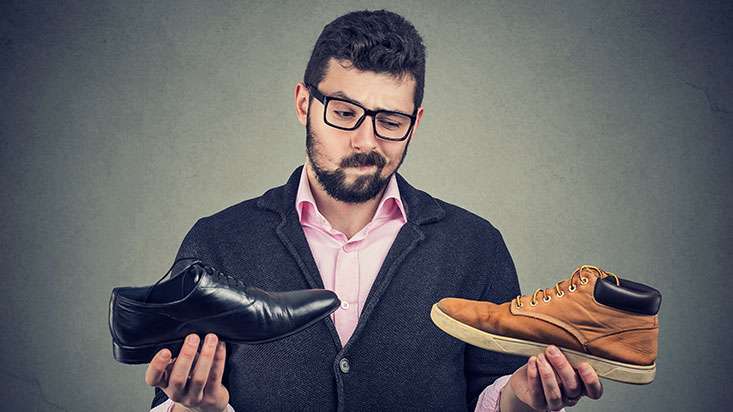 The next step is to find shoes of the right size. This is vital considering the average retail worker typically stand on their feet for at least six hours per day!
Getting the correct size for your work shoes can be tricky. I lost count of how many times the customers in my retail store thought they were buying the right size shoes. When in fact, the majority of people, not just retail workers, have been wearing the wrong sized work shoes their entire life!
Remember: If you buy work shoes that are too small, your feet won't be able to breathe and you could easily suffer from sweaty feet and maybe even blisters.
Cushioning your feet
The right shoes won't just be made from high-quality materials, they will also need to be made from a comfortable material such as memory foam to absorb impacts.
A retail job is likely to keep you on your feet for extended periods of time so you want to minimise how much strain you put your feet, ankles and knees under.
In my case, I obsessed over the many shoe reviews out there trying to find a pair with a cushioned insole, a padded collar and even a padded tongue. When I finally found the right combination it made a huge difference and kept my feet healthy during those long hours!
For retail workers, my advice is to choose high-quality shoes with a memory foam insole that adapts to the shape of your feet.
If possible, you should also wear shoes with some soft foam cushioning on the heel too, to avoid any pressure on your ankles and heels.
Durability
This is a tricky one because retail workers will almost certainly put even the most durable of shoes through their paces.
So I wouldn't expect your work shoes to last as long as a good pair of dress shoes would.
It all ultimately comes down to the use of high-quality materials, how often you wear them, how well you care for them and the weather/conditions you expose them to.