About Retail Worker Confessions
Retail Worker Confessions is the destination community for anyone that has ever sweated in a brightly coloured polyester uniform and lived to regret it. With over 300,000 members, we're one of the biggest retail worker communities in the world.
But how did it all begin?
The Retail Worker Confessions Story
2003
A long, long time ago...
Rob, the founder of Retail Worker Confessions starts working in retail. As you can see from the look on his face, he's having the time of his life. At this point, let's pause for a moment to appreciate the relics of that era — the CRT monitor, the CDRW player, the Samsung flip phone, Rob's hairline…
2003-2013
The cocking about phase
Rob spends 10 years cocking about in retail. He tells everyone that he "will get another job soon". Secretly, he's crapping his pants (metaphorically and physically) at the thought of being stuck in retail forever. He joins the management training program and after a year of intense training, hard work and dedication, he discovers that he's an awful Retail Manager.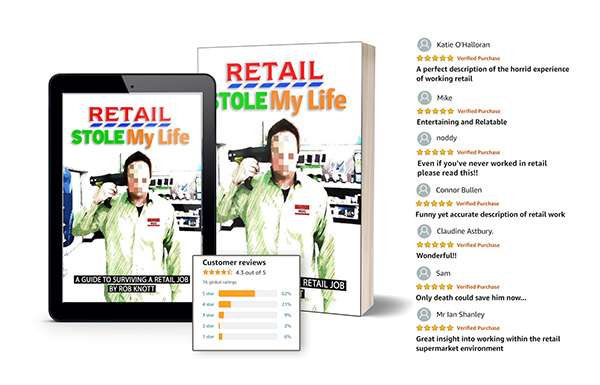 2014
The Retail Stole My Life book
Rob releases a short book about his time in retail called Retail Stole My Life. The book is filled with spelling mistakes and questionable grammar but sells well on Amazon. Rob uses the royalties to retrain as a professional writer, quits retail for good and starts a fresh life in digital marketing.
2018
The Retail Stole My Life Facebook page
Rob founds the Retail Stole My Life Facebook page and grows it to over 100,000 followers. Each day, thousands of retail workers like, share and comment on the content that it shares.
2019
Helping raise awareness in the House of Commons
With retail workers subject to 155,000 incidents of abuse and violence each year, we work with the UK House of Commons to push for improved protections – full details here. This follows a petition titled: "Protect Retail Workers from Abuse, Threats and Violence" that reached over 100,000 signatures.
2020
The Retail Worker Confessions Facebook community
The Retail Worker Confessions community launches on Facebook. The group rapidly gains over 200,000 members, making it one of the biggest retail worker groups in the world. As of 2020, the group is one of the most active groups on Facebook with 500 posts per day, 100,000 comments per week and over 1.5 million reactions per month.
2021
Retailworkerconfessions.com is launched
With a community of over 300,000 retail workers spread across multiple social media platforms, we launch the Retail Worker Confessions website. Our goal is to entertain and empower retail workers across the world through stories, confessions, opinions and much more.
Want to get in touch?
Visit our contact page for details. You can also write to us at the following address:
Retail Worker Confessions
International House
64 Nile Street
Shoreditch
London
N1 7SR