Here are 15 Black Friday memes that will convince you to stay home in future.
1. When a half price tv basically = Zombies
Honestly, watch if you haven't watched World War Z then you need to. No greater scene in TV history matches up to the chaos and hell on earth that is Black Friday in retail
2. When Bane and Batman wrestling over a TV at Walmart becomes almost believable.
It's not a scene I'm familiar with from the big screen, but I swear I've seen it happen in store. You just never know who you're gonna meet doing your black friday shopping.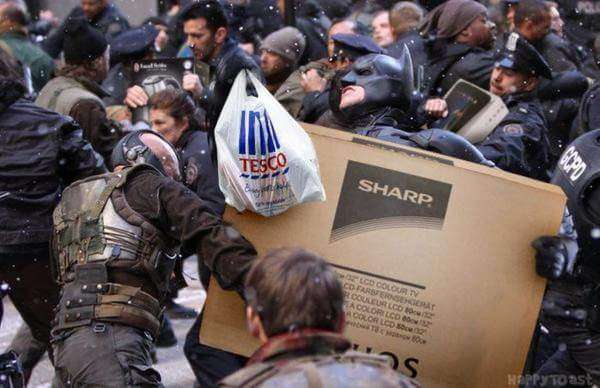 3. As long as it's on sale and I get a good deal, I don't care what it is.
Because people obviously have money to burn and will happily shop for the sake of the sales and fight a small child just to get the last TV.
4. I mean, he has got a point. Whoever scheduled Black Friday right after Thanksgiving was definitely trolling.
Come on America, what matters more? Taking the time to celebrate Thanksgiving and spend the day with your family? Or using pepper spray to take out other Americans fighting over a deal?
5. The funniest of all Black Friday memes is you, shopping online for bargains that you can't afford.
I mean, if you're going to avoid the chaos of the mall by shopping for deals on the internet, you should probably make sure you have some money to burn on Black Friday.
6. Only amateurs wait for the sales to reach the stores. You have to go right to the source for the best deals.
It's funny but I wouldn't be surprised if someone wound up dead trying to pull a crazy stunt like this to get their hands on a PS5 or something.
7. It's funny because people actually do this and it makes absolutely no sense.
Of all Black Friday memes, this one makes me laugh the most because it's just so true.
8. There's just no fun in needless Black Friday sale violence if you actually put some planning into it.
Have you not seen the news? There's no time to plan. Just visit the shop and line up with the rest of them.
9. Black Friday shopping must make every security guard dread the month of November.
You came here for the funniest Black Friday Memes, but you and I both know that someone will end up in the news for taking things too far. So when you're out there shopping for the best prices, take a moment to think about the people trying to keep you safe.
10. If you're going to be awful during Black Friday, at least come prepared.
And it doesn't get much better than having your very own battle cart to carve your way through the chaos.
11. OK, now you're taking things too far…
Of all the funny Black Friday memes on the internet, I didn't expect to to find one so… practical. Can someone send me a link to buy one of these? They look like a lot of fun.
12. I mean, if you're gonna fight to pay a little less, at least make it worthwhile.
Also, surely Rocky bought that TV for Adrian?
13. This Black Friday meme gets even more funny once you spot the dog…
I wonder if this doggo got a bargain?
14. I mean as far as funny memes go, this one makes a great point.
Stay at home folks!
15. This one probably applies to us Brits too.
America, we love you, but I wish you'd kept this particular event to yourselves. However, we do appreciate the funny Black Friday memes.
Got any funny Black Friday memes to share? Let us know in the comments and we'll get them added to this page!