An Aldi customer bought a 29p tin of Corale Premium Quality (sounds about right) baked beans in Rich Tomato Sauce.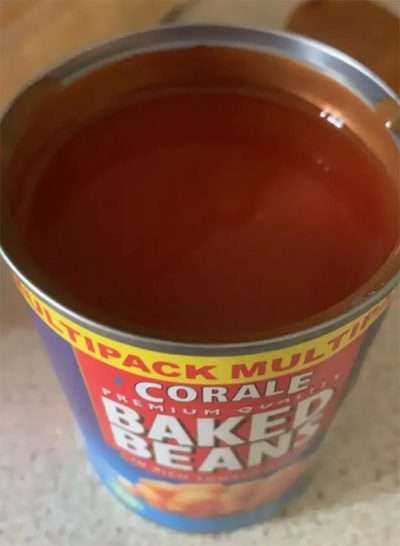 She was left counting her beans, and found none. Not one. Just a tin full of tomato sauce.
The 47-year-old, from Aylsham in Norfolk, shared images of her unusual find online, writing: "Not a single bean in my tin!"
You'd think this insult to the British institution that is Baked beans would release a wave of anger amongst the commenters, but amazingly they were mostly jealous;
"Bean juice, omg yes please."
"Would have been a bonus for me"
"That's my dream! I love the bean sauce but don't like beans!"
"I don't understand why they don't just sell the juice"
This tells us there is a consumer demand this kind of thing. Maybe this would catch on and Aldi will sell it alongside other products the great British public desire.
We're thinking the liquid inside jars of olives, maybe the stodgy gelatine you find inside packs of cheap ham and pork pies. That would be amazing on toast! What about the crusty scrapings from the edge of a lasagne dish, in a jar.
Or the peanut dust popularised by Chabuddy G from People Just do Nothing.
A spokesperson for Aldi said, regarding the matter;
"Customers can return any product they are not satisfied with to their nearest store for a full refund."
To which we ask, who would actually take a trip to their store to get a replacement 29p tin of Baked Beans?